Rolling Pumps

Liquid Pump
Self-priming compact liquid pump
(positive liquid pressure)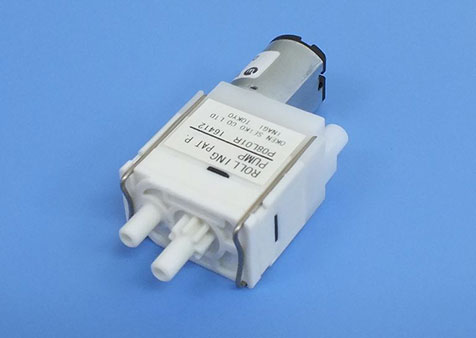 Our liquid pumps feature excellent suction performance (3mAq) and forcing performance (40mAq) for the size as well as the self-priming capability.
Products applying these pumps can be designed without restriction of the pump installation location with respect to the liquid level.
These pumps are applied widely in equipment that needs compact design and/or self priming, such as home appliances (hot pots, refrigerators, water-spraying toilet seats, steam electronic ovens, irons, washing machines), housing equipment and fuel cells.
Liquid Pump List
Table can be scrolled horizontally
※1
※2
※3
Model
Voltage
[VDC]
Max Pressure
[kPa]
Free Flow
[L/min]
min Current
[mA]
Noise
[dBA]
Life
Guaranteed value
[h]
Life
Actual value
[h]
Remarks
P08L02R
12
over 200
0.17
70
-
50
100
6V,Image
RTP27I15R
12
over 70
0.35
110
-
90
180
6V
P11G01R
12
over 130
0.8
120
-
280
560
WTR27B02R
12
over 100
0.3
50
-
200
400
Different flow rate, different lifetime specifications available.
※1 Performance values are on average.
※2 Operation time is guaranteed. Operation cycles differ depending on the model.
※3 Average performance tested using a proven testing method.